Summer Blockbuster Series: Pirating Uncharted Waters
Two cannonballs were dropped on us last weekend (well, three if you count the World Cup and Zizou's bizarre Ron Artest impersonation):
The record-breaking film Pirates of the Caribbean: Dead Man's Chest and the news that LeBron James had finally decided to re-up with the Cleveland Cavaliers.
You Don't Know Jack
The blockbuster bombshell Dead Man's Chest reminded that while there is still so much wrong with Hollywood, there is also so much that's right. The mega-budget Pirate flick pillaged box offices while captivating fans coast to coast. Disney's flagship film series cruised past Spider-Man's 2002 opening-weekend box office record of $114.8 million by plundering moviegoers for a treasure of $135.6 Million.
J-Lo ain't got nothin' on that booty.
Not since Harrison Ford was cracking a whip and kicking it with Short Round have we seen a swashbuckling trilogy as prolific as the Pirates of the Caribbean series. As a result, the film industry is back with a vengeance. Last weekend American box offices took in a record $217 million. The previous record was $188 million. On the heels of Dead Man's Chest, original material is once again fashionable and perhaps, just perhaps, big-wig studio execs will once again match the courage displayed by the series' most beloved buccaneer…
Captain Jack Sparrow, aka America's favorite rebel Johnny Depp.
Depp is currently the runaway winner in terms of Hollywood popularity.
Depp's turn as Sparrow has him sitting in the Crow's Nest of Hollywood's A-List. Depp is suddenly bigger than Denzel, Bragelina, Julia, or either of the Toms. He has commandeered this takeover his way, blazing his own path by steering clear of the tabloid headlines and towards a series of quirky, captivating roles. Like Sparrow, we sometimes question his methods, but there is no second guessing Depp's talent or results. He was paid $20 million-plus for Dead Man's chest, and who knows what kind of loot he'll command from here on out.
What other actor could sport mascara and dangly earrings and still remain dashing?
Only Depp—the shrewd performer and businessman whose bravado and foresight are navigating the film industry into uncharted waters—is cool enough pull that off.
The NBA's Captain Cool
That kind of cool reminds me of another swashbuckling star—Hardwood Cavalier LeBron James.
Turning a trilogy that draws on an ancient theme park ride and burnout rocker Keith Richards as inspirations into the biggest film franchise in America is downright crazy. Turning the perennial cellar dweller Cleveland Cavs into one of the NBA's most popular teams and a championship contender, well, that's almost incomprehensible. But that's just what LeBron James has done.
Like Depp, LeBron wants to blaze his own path. He wants to win championships and navigate the NBA into uncharted waters. And he wants to do it in Cleveland.
Forget the buzz about LeBron signing a deal that allows him to opt out of his contract four years from now and become an unrestricted free agent. That doesn't mean he's trying to sneak his way into a Knicks or Lakers jersey and get his Nike payday. It means he's keeping Cavs Owner Dan Gilbert, GM Danny Ferry, and the rest of the front office in check. LeBron's ensuring that if the Cavs don't get serious about winning a title, come the summer of 2011 he'll sail away from the Mistake on the Lake for good.
He also knows that by 2011 the NBA's popularity will be at an all-time high and a new collective bargaining agreement will be in place. Who knows what kind of loot LeBron will be able to command at that point. ESPN hypeman Stephen A. Smith claims he'll be able to sign a contract "in excess of $150 million" that summer. Add those dollars to his new $50 million contract and his endorsement money, and this deal just makes sense.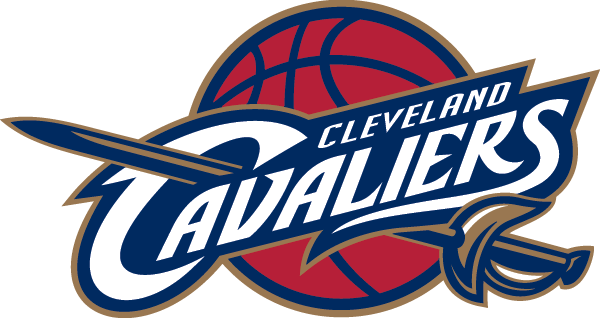 LeBron a swashbuckler? Peep the sword in the Cavs' logo.
For those who don't think LeBron is sitting in the NBA's Crow Nest , I beg to differ. The Dwyane Wade argument is a strong one, but ultimately one that sinks.
Yes, Wade is the first player from the stellar NBA Draft Class of 2003 to win a championship. However, judging LeBron on that criteria isn't exactly fair. Only 21 years old, LeBron is three years younger than Wade. Wade's Miami Heat were also in better shape than LeBron's Cavs when both players arrived on the NBA scene. Last year was Wade's third NBA Playoff appearance. Due to no fault of his own, last season was LeBron's first postseason voyage. LeBron also doesn't have Riles plotting the course or the Big Whatever-He-Wants-to-Call-Himself as his First Mate.
LeBron is simply more popular and more marketable than Wade or any other NBA star. He's the biggest sword on the biggest sports-endorsement ship—Nike. Tiger Woods, Tiger Schmoods, I'm rolling with LBJ. Meanwhile, Wade is sporting Converse and sharing commercials with the likes of Jennie Finch. The only time LeBron shares the commercial spotlight is when he clones himself.
LeBron makes more money (after endorsements), is more popular, and puts up better numbers than any player in the league, and at this point in his career he has progressed more than any other 21-year-old player in NBA history. Given the circumstances, I have to tell it like it is…
King James definitely rules the seas of the NBA and will for a long time to come.
X Marks the Spot
What treasures will America's two favorite action heroes find before their careers become folklore? I'm guessing at least two more Pirates of the Caribbean movies, at least two NBA Championships, two NBA MVP awards, two Best Actor Oscars, and enough money to buy the Cavs twice over.
If you aren't yet onboard as a fan of these two swashbucklers, get onboard you scurvy animals. I for one would rather walk the plank than miss what Depp and LeBron have in store for us. Ahoy mates!